My Blog
Posts for: December, 2016
By Sacred Dental & Associates, P.C.
December 24, 2016
When is the best time to floss your teeth: Morning? Bedtime? How about: whenever and wherever the moment feels right?
For Cam Newton, award-winning NFL quarterback for the Carolina Panthers, the answer is clearly the latter. During the third quarter of the 2016 season-opener between his team and the Denver Broncos, TV cameras focused on Newton as he sat on the bench. The 2015 MVP was clearly seen stretching a string of dental floss between his index fingers and taking care of some dental hygiene business… and thereby creating a minor storm on the internet.
Inappropriate? We don't think so. As dentists, we're always happy when someone comes along to remind people how important it is to floss. And when that person has a million-dollar smile like Cam Newton's — so much the better.
Of course, there has been a lot of discussion lately about flossing. News outlets have gleefully reported that there's a lack of hard evidence at present to show that flossing is effective. But we would like to point out that, as the saying goes, "Absence of evidence is not evidence of absence." There are a number of reasons why health care organizations like the American Dental Association (ADA) still firmly recommend daily flossing. Here are a few:
It's well established that when plaque is allowed to build up on teeth, tooth decay and gum disease are bound to follow.
A tooth brush does a good job of cleaning most tooth surfaces, but it can't reach into spaces between teeth.
Cleaning between teeth (interdental cleaning) has been shown to remove plaque and food debris from these hard-to-reach spaces.
Dental floss isn't the only method for interdental cleaning… but it is recognized by dentists as the best way, and is an excellent method for doing this at home — or anywhere else!
Whether you use dental floss or another type of interdental cleaner is up to you. But the ADA stands by its recommendations for maintaining good oral health: Brush twice a day for two minutes with fluoride toothpaste; visit your dentist regularly for professional cleanings and checkups; and clean between teeth once a day with an interdental cleaner like floss. It doesn't matter if you do it in your own home, or on the sidelines of an NFL game… as long as you do it!
If you would like more information about flossing and oral hygiene, contact us or schedule an appointment for a consultation.
By Sacred Dental & Associates, P.C.
December 09, 2016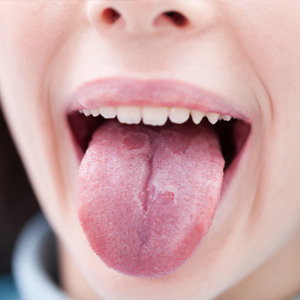 If you've ever been alarmed to find oddly-shaped red patches on your tongue, you can relax for the most part. Most likely, you're part of a small fraction of the population with a condition known as geographic tongue.
The name comes from the irregular shape of the patches that seem to resemble land formations on a map. Its medical name is benign migratory glossitis, which actually describes a lot about the condition. The patches are actually areas of inflammation on the tongue ("glossus" – tongue; "itis" – swelling) that appear to move around or migrate. They're actually made up of areas where the tiny bumps (papillae) you normally feel have disappeared: the patches feel flat and smooth compared to the rest of the tongue.
We're not sure why geographic tongue occurs. It often runs in families and seems to occur mostly in middle-aged adults, particularly women and non-smokers. It's believed to have a number of triggers like emotional stress, hormonal disturbances or vitamin or mineral deficiencies. There may also be a link between it and the skin condition psoriasis. Under a microscope the red patchiness of both appears to be very similar in pattern; the two conditions often appear together.
The bad news is we can't cure geographic tongue. But the good news is the condition is benign, meaning it's not cancerous; it's also not contagious. It poses no real health threat, although outbreaks can be uncomfortable causing your tongue to feel a little sensitive to the touch with a burning or stinging sensation. Some people may also experience numbness.
Although we can't make geographic tongue go away permanently, you should come by for an examination to confirm that is the correct diagnosis. Once we know for sure that you do have migratory glossitis, we can effectively manage discomfort when it flares up. You should limit your intake of foods with high acidity like tomatoes or citrus fruits, as well as astringents like alcohol or certain mouthrinses. We can also prescribe anesthetic mouthrinses, antihistamines or steroid ointments if the discomfort becomes more bothersome.
It may look strange, but geographic tongue is harmless. With the right care it can be nothing more than a minor annoyance.
If you would like more information on benign migratory glossitis, please contact us or schedule an appointment for a consultation. You can also learn more about this topic by reading the Dear Doctor magazine article "Geographic Tongue."