My Blog
Posts for tag: root canal treatment
By Sacred Dental & Associates, P.C.
January 08, 2017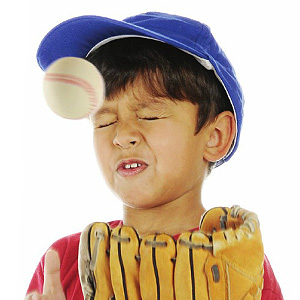 Children have a lot of energy that's often channeled through physical activities and sports. Unfortunately, this also increases their risk of injuries, particularly to their teeth.
Injuries to the mouth can endanger permanent teeth's survival. For an older tooth, a root canal treatment might be in order. Not so, though, for a pre-adolescent tooth, even if it is permanent.
A young permanent tooth is still developing dentin, the large layer just below the enamel. This growth depends on the connective tissue, blood vessels and nerves within the pulp in the center of the tooth. Because a root canal treatment removes all of this tissue, it could stunt dentin and root growth and endanger the tooth's future.
Instead, we may need to treat it with one of a number of modified versions of a root canal, depending on what we find. If the tooth's pulp is unexposed, for example, we may need only to remove the damaged dentin, while still leaving a barrier of dentin to protect the pulp. We then apply an antibacterial agent to minimize infection and fill in the area where we've removed tooth structure.
If some of the pulp is exposed, we may perform a pulpotomy to remove just the affected pulp and any overgrown tissue. We then place a substance that encourages dentin growth and seal it in with a filling. If we go deeper toward the root end, we might also perform procedures that encourage the remaining pulp to form into a root end to stabilize the tooth.
If the entire pulp has been damaged beyond salvage, we may then turn to a procedure called an apexification. In this case we clean out the pulp chamber; at the root end we place mineral trioxide aggregate (MTA), a growth stimulator that encourages surrounding bone to heal and grow. We then fill in the root canals and chamber with a special filling called gutta percha to seal the tooth.
The deeper we must penetrate into the pulp, the higher the chances the young tooth's dentin and roots won't form properly, leading to later problems and possible loss. But by employing the appropriate one of these methods, we can minimize the risk and give your child's damaged tooth a fighting chance.
If you would like more information on children and dental injuries, please contact us or schedule an appointment for a consultation. You can also learn more about this topic by reading the Dear Doctor magazine article "Saving New Permanent Teeth after Injury."
By Sacred Dental & Associates, P.C.
March 28, 2016
Teeth can take a lot of force over a lifetime of biting and chewing, thanks to enamel, their outer layer made of the strongest substance in the human body. Unfortunately, they're not invincible: it's even possible for you to break or "fracture" a tooth while biting or chewing normally.
Although such a fracture might seem to occur out of the blue, it's usually related to a condition known as cracked tooth syndrome. It usually occurs in three stages: in the first, miniscule cracks in the outer enamel known as craze lines develop. They're not immediately dangerous since they only involve the enamel surface; but left untreated they could deepen and progress to the next stage, a larger crack that penetrates the tooth's underlying dentin.
If allowed to grow, this crack in turn can lead to the third stage, a full fracture that could extend down to the root. A fracture can put the tooth in danger of loss, especially if its inner pulp becomes exposed. To avoid this worst case, it's best to treat the tooth at the earliest stage possible when craze lines are just developing.
There is a difficulty, though, with detecting craze lines — they're small, too small to detect normally with x-rays. We, therefore, rely on other methods such as using an instrument called an explorer to feel for cracks, having the patient bite on a stick or rubber pad to replicate pain symptoms or using fiber-optic lighting with special dye stains to highlight possible cracks. Endodontists, specialists in root canals, can use microscopic equipment that's quite adept at detecting craze lines.
There are also some signs you can be on alert for that might indicate a craze line or crack. If you feel a short, sharp pain — a "wince" — when chewing and releasing food, you could have a crack that hasn't yet affected the nerves. If a true fracture occurs, the pain will intensify and you may notice pieces of the tooth coming off. If the crack extends to the root, the pain will become greater and more chronic.
It's important then that you see us for any recurring pain symptoms as soon as possible. If it's a crack, the sooner it's treated the better your tooth's chances for survival.
If you would like more information on cracked tooth syndrome, please contact us or schedule an appointment for a consultation. You can also learn more about this topic by reading the Dear Doctor magazine article "Cracked Tooth Syndrome."
By Sacred Dental & Associates, P.C.
March 05, 2016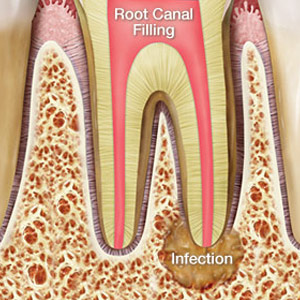 Most first-time root canal treatments achieve their purpose in saving an internally decayed tooth and extending its life to match those of the patient's non-decayed teeth. Occasionally, though, a root canal-treated tooth may become re-infected by decay.
There are a number of reasons for this: the permanent crown meant to add further protection against decay may have been delayed, giving bacteria an opening to re-infect the tooth; it's also possible the original seal for the pulp chamber and root canals after filling wasn't sufficient to prevent bacterial contamination.
There's also another reason that's very difficult to foresee — the presence of narrow, curved root canals in the tooth that can pose complications during the procedure. Some of these known as accessory or lateral canals branch off the main canals to create a complex network that's difficult to detect during the initial procedure. If they're not cleaned out and filled during the procedure any tissue trapped in them can remain infected and ultimately die. If these canals also open into the periodontal membrane at the attachment between the teeth and bone, the infection can spread there and become a periodontal (gum) infection that can trigger future tooth loss.
Fortunately, a reoccurrence of infection isn't necessarily a death sentence for a tooth. A second root canal treatment can correct any problems encountered after the first treatment, especially complications from accessory canals. It may, though, require the advanced skills of an endodontist, a dental specialist in root canal problems. Endodontists use microscopic equipment to detect these smaller accessory canals, and then employ specialized techniques to fill and seal them.
If you encounter pain or other signs of re-infection for a tooth previously treated with a root canal procedure, contact us as soon as possible. The sooner we can examine and diagnose the problem, the better your tooth's chances of survival by undergoing a second root canal treatment.
If you would like more information on tooth preservation through root canal treatment, please contact us or schedule an appointment for a consultation. You can also learn more about this topic by reading the Dear Doctor magazine article "Accessory Canals."